As a food blogger I should have made these Beignets and posted them at least a month before Shrove Tuesday. Instead I made them on Mardi Gras/Fastnacht/Pancake Tuesday/ Shrove Tuesday. You can either pin the recipe for next year, or make them today, because you probably have the ingredients in your kitchen and they are absolutely delicious.
Apparently there are two different kinds of Beignets, some with yeast that need to rise overnight and more fritter-like ones without any leaveners. This Lalanne family recipe is the kind without yeast.
I remember sitting at a family gathering decades ago listening to my great grandmother and her sister talking about how hard it was stirring all of the eggs into these. So, I never made them until last week. I love Gram and Aunt Olga but, really, it wasn't that hard. I think they just didn't want to be talked into making them again.
When I posted the photo on Facebook, the Lalanne ladies helpfully chimed in. Some had made them or remembered their mothers (Gram's daughters) making them. One from my generation had made them. Another from my generation wanted to know if you could use an electric mixer to incorporate the eggs. We knew they had always been mixed by hand, but weren't sure if the reason why was because of tradition or necessity.
After checking a few cookbooks, including some by America's Test Kitchen and some specializing in Louisiana cuisine, I finally found an answer to my question in Joy of Cooking. Using an electric mixer could potentially produce gluten which will make them tough. So, hand mixing it is. The first egg is tough, but it gets progressively easier with each one. Use a sturdy wooden spoon and you should be fine.
My brother, the NOLA boy in his heart if not by birth, was impressed that I made them, but he did have to make one critique: I skimped on the powdered sugar. Sigh! His precious nephew K-Rex thought there was plenty. And he tested four just to be sure…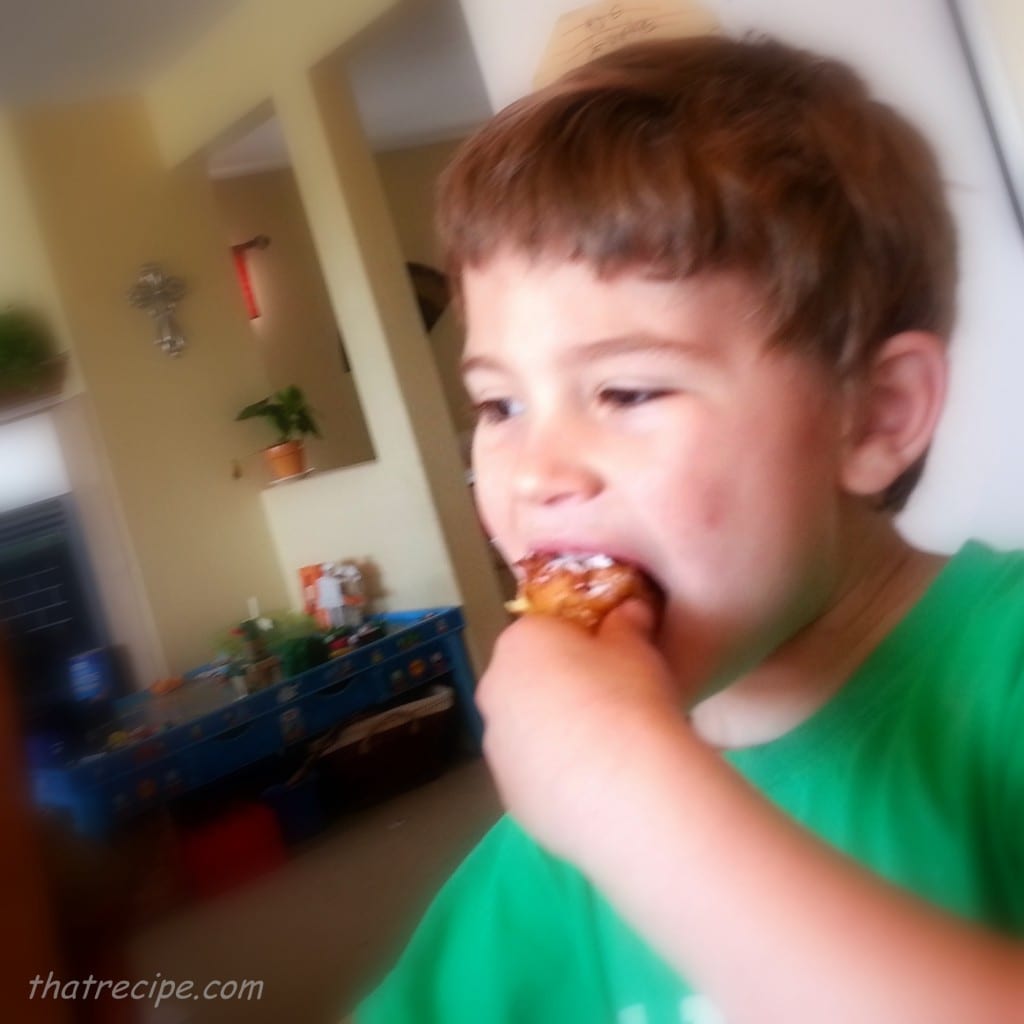 Beignets
Print recipe
Classic French Beignets made without yeast.
Ingredients
2 cups all purpose flour
2 cups water
1 tablespoon sugar
2 tablespoons butter
1 teaspoon salt
8 Large eggs
Note
Mix the eggs in to the dough by hand to prevent gluten forming and making the fritters tough. It gets easier after each egg.
Directions
Boil water, sugar, salt, and butter together. Add flour all at once.
Cook until dough leaves the sides of pan. Remove from fire; cool for a few minutes.
Add eggs one at a time and mix until absorbed. Keep going--it's hard work.

Drop by the teaspoonful in hot fat. They will turn over by themselves.
Cook until golden. Drain on paper towels. Sprinkle with powdered sugar. Serve hot or warm.
For more delicious desserts check out Tempting Tuesday.
Until next time, happy eating!
~Audrey