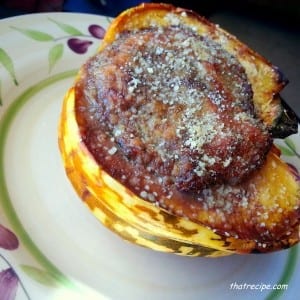 The Autumnal Equinox is here! I am ready for cooler weather and hearty slow cooked foods.
What I am not ready for is Pumpkin Everything!!!
Ugh, it has been everywhere for the last month: on my newsfeed, on my blog hops, in the grocery store. Enough already. There are so many other delicious squashes out there that deserve some love.
Carnival, buttercup, acorn, kabocha, Blue Hubbard, sweet dumpling, delicata, butternut.  Oh yum!
If you are feeling adventurous, pick up one of those and make this simple scrumptious Stuffed Squash.